Award Plaques in Graham, WA
Impressive Awards & Gifts offers numerous award plaques suitable for commemorating a wide range of achievements. We are proud of our ability to work with our clients to help them identify plaque types and styles that meet their needs. Our knowledgeable, expert staff has more than 40 years of experience and can help you discover plaque options that will truly resonate with the recipient.
Plaques, like medals, are often indicative of substantial achievements within a company or organization. As the premier provider of personalized gifts in Graham, Puyallup, Sumner, and Waller, WA, you can count on us to provide you with high-quality plaques that look and feel like something your recipients will cherish long after they receive it.
Plaque Offerings
A good plaque is more than just a piece of wood with an engraving—it's one that's crafted with style, sophistication and care. We offer a full range of award plaques in Graham, WA in varying styles, including: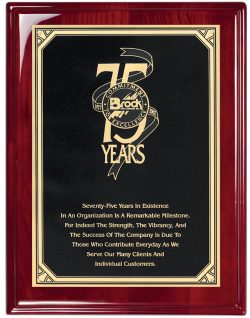 Our store also carries gavel plaques, stand-up award plaques, shield plaques and more.
Purchase a Plaque
Commemorate the outstanding achievements of your friends, students, employees or loved ones by purchasing a custom plaque today. Contact us at Impressive Awards & Gifts at (360) 893-4899 to learn more about our extensive range of plaque offerings. We can help you choose a high-quality plaque that's right for you and your event.
Showing 1–16 of 81 results