Acrylic Awards
If you're looking for a versatile and affordable award type, consider investing in an acrylic award. These durable, multi-purpose awards are perfectly suited for a number of momentous occasions. They're a long-lasting way to show your appreciation for your staff, students, family members or anyone else receiving recognition.
Acrylic awards make excellent corporate awards in Graham, WA, and are also suitable for educational achievements, personal growth and event commemoration. Regardless of the reason you are investing in an acrylic award, you can count on the friendly team members at Impressive Awards & Gifts to provide you with an acrylic award that meets your needs.
Types of Acrylic Awards
There are two chief types of acrylics out there, each paving the way for beautiful, eye-catching awards that your recipient will cherish. At Impressive Awards & Gifts, we stock both: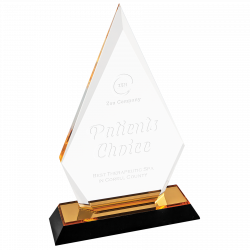 Clear acrylics:
These durable, high-quality awards can either be freestanding or include a base. Clear acrylic awards with a base typically feature a classical, established and timeless appearance. Freestanding clear acrylic awards, on the other hand, are more modern in appearance.
Colored acrylics:
When you choose a colored acrylic award, you can select a color scheme to meet your office space or team colors. Colored acrylics, available in both freestanding and non-freestanding models, can provide a more personalized type of award for the recipient.
The great benefit of acrylic awards is the ability to customize them however you see fit. Talk with the talented team here at Impressive Awards & Gifts to learn more about ways we can help you customize your acrylic awards.
Order an Acrylic Award
Take your commemoration to the next level, and order an acrylic award for your friend, student, loved one or employee. To learn all about the different levels of customization available to you, reach out to one of the friendly team members here at Impressive Awards & Gifts today at (360) 893-4899.
Showing 1–16 of 52 results