Impressive Trophies & Awards
Impressive Trophies & Awards has been serving individuals, businesses and organizations in Puyallup with unique, personalized awards, trophies, gifts and engraving services for over 40 years. We pride ourselves on the quality of our workmanship and the individualized attention we give to each of our customers.
Learn More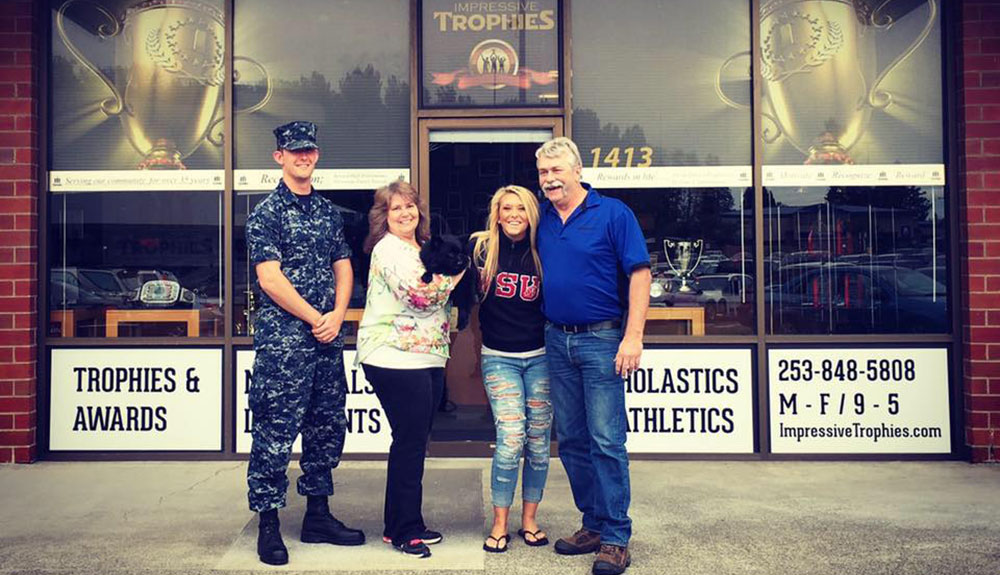 Custom Trophies in Puyallup, WA
Nothing expresses gratitude or recognizes achievement quite like a personalized gift. Whether you're honoring a retiring member of your organization, recognizing students during a competition or tournament, awarding trophies to a winning team or simply expressing your love on your anniversary, an engraved gift item is perfect for communicating your message. At Impressive Trophies & Awards, we have the experience, knowledge and skill necessary to create custom trophies in Puyallup, WA for any occasion, and a dedication to customer satisfaction that has enabled us to work with countless clients over the past four-plus decades.
Impressive Trophies & Awards (formerly Trophy-N-Things) offers an array of unique and highly personalized awards, trophies, plaques, gift items and more. We specialize in meeting the needs of organizations, corporations, churches, teams and individuals who require one-of-a-kind items to honor achievements, recognize contributions or express appreciation. Thanks to our engraving services, we're able to personalize trophies, gifts and award plaques in Puyallup, WA in an enduring manner. Our commitment to our industry and our community is evident through our membership in the Awards and Personalization Association, the Graham Business Association and the Sumner Downtown Association. Here are just a few of the many reasons why our customers love doing business with Impressive Trophies & Awards:
We're a family-owned business in Puyallup, WA.
We create high quality, personalized trophies, awards and gifts.
We specialize in providing services to corporations, organizations and individuals.
Our highest priorities are excellent workmanship and individualized customer service.
Our rates are competitive.